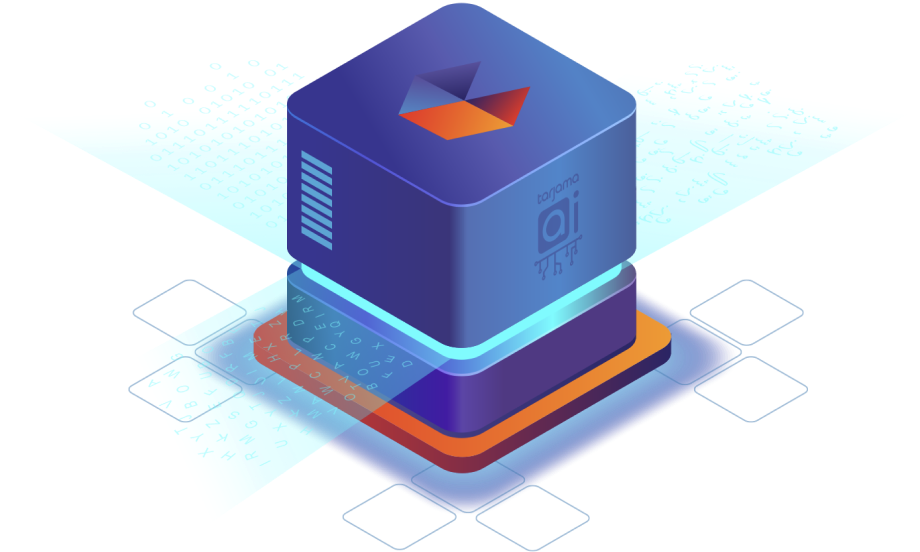 AI-power your

Translation teams!
CleverSo the translation management system for AI-enabled translation. 
Built by translators for translators, and harnessing AI to boost translation productivity and elevate project teams with clever automation, streamlined workflows and powerful insights. Dive into the future of translation with CleverSo, augmenting the capabilities of your translation teams, in an easy-to-use, modern, secure and collaborative tool
Built by translators for translators!
CleverSo, has been built by translator for translators, leveraging our decade-long experience of managing translation projects and incorporating the knowledge from our vast network of translators.
With 15 years of expertise in the translation industry, serving some of the MENA region´s most impactful organizations, Tarjama is committed to reshape the future of the language industry in the region and beyond with its AI-powered language technology products.
Elevate Your Project Managers
Allow your translation project teams to levitate towards light-weight project management, where CleverSo steps in to do part of the work with clever workflow automation, smart file processing and dynamic distribution and assignment of work.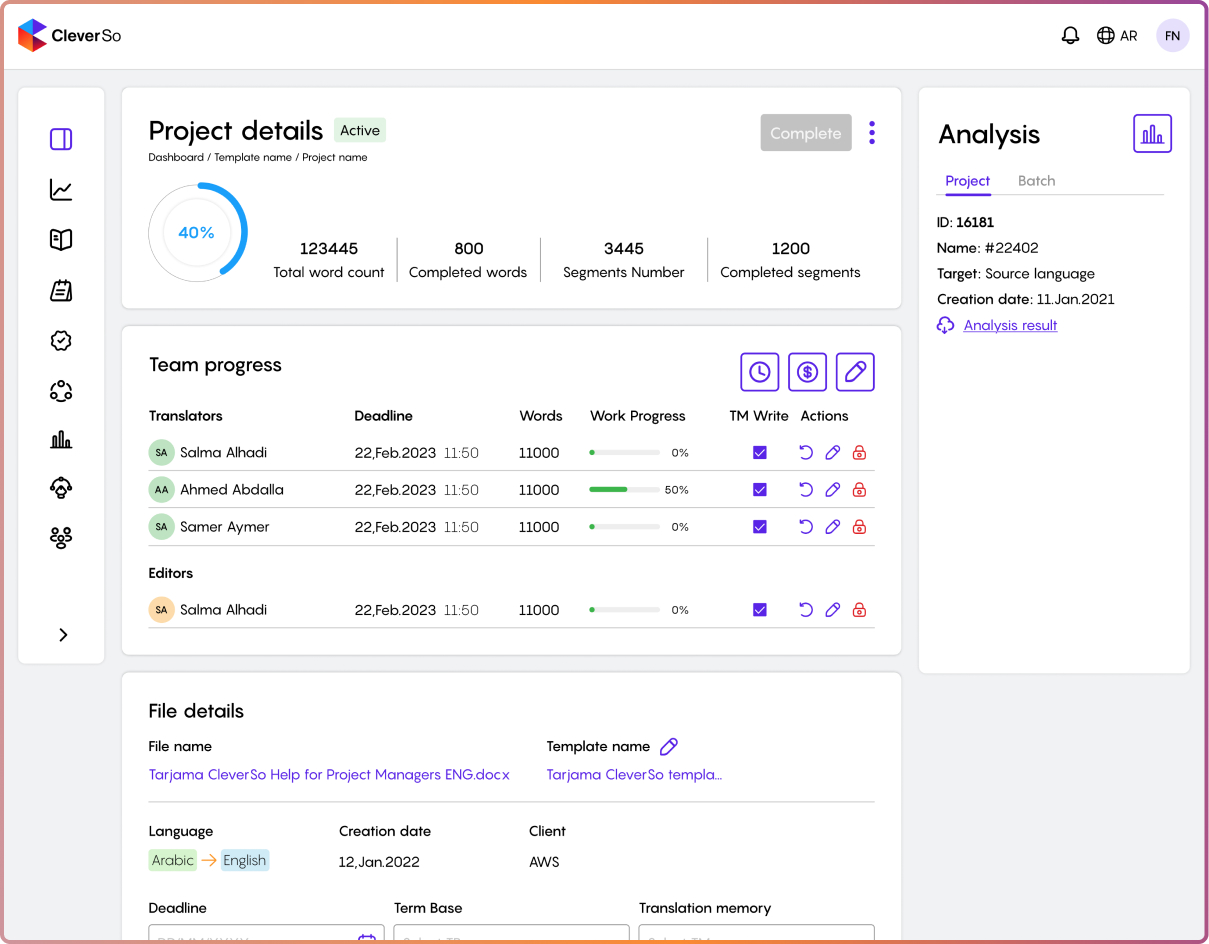 With CleverSo TMS, your content stays secure, either in our cloud or on your servers, without unnecessary calls to third-party providers as per applying our proprietary technology, and we give you full control to decide who can access what and to see who did what in your translation workflows.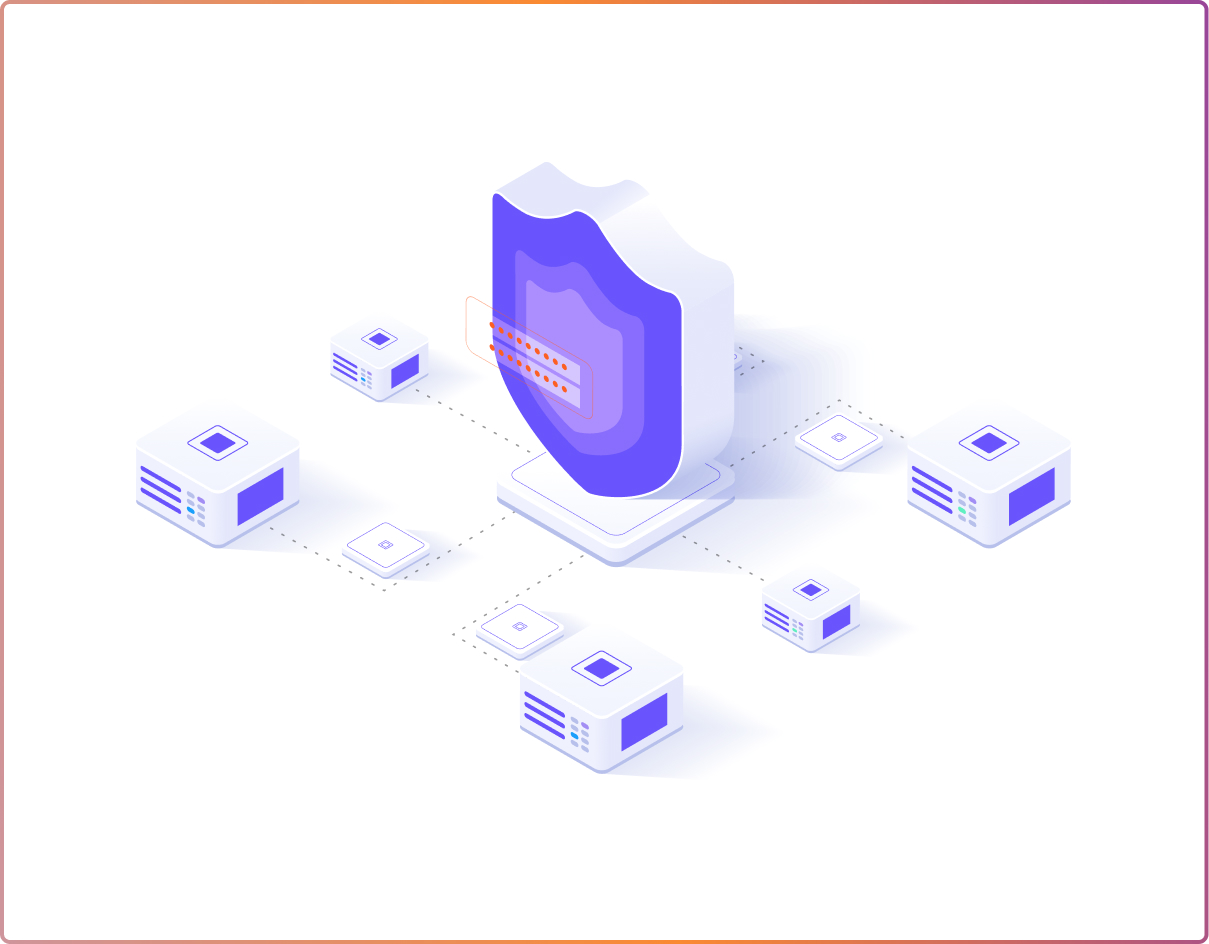 Boost your translation productivity
With an easy-to-use, attractive workspace, powered by advanced language technologies and harnessing AI, CleverSo has been geared for AI-enabled translation, allowing translators to go beyond MTPE (PEMT) to boost translation productivity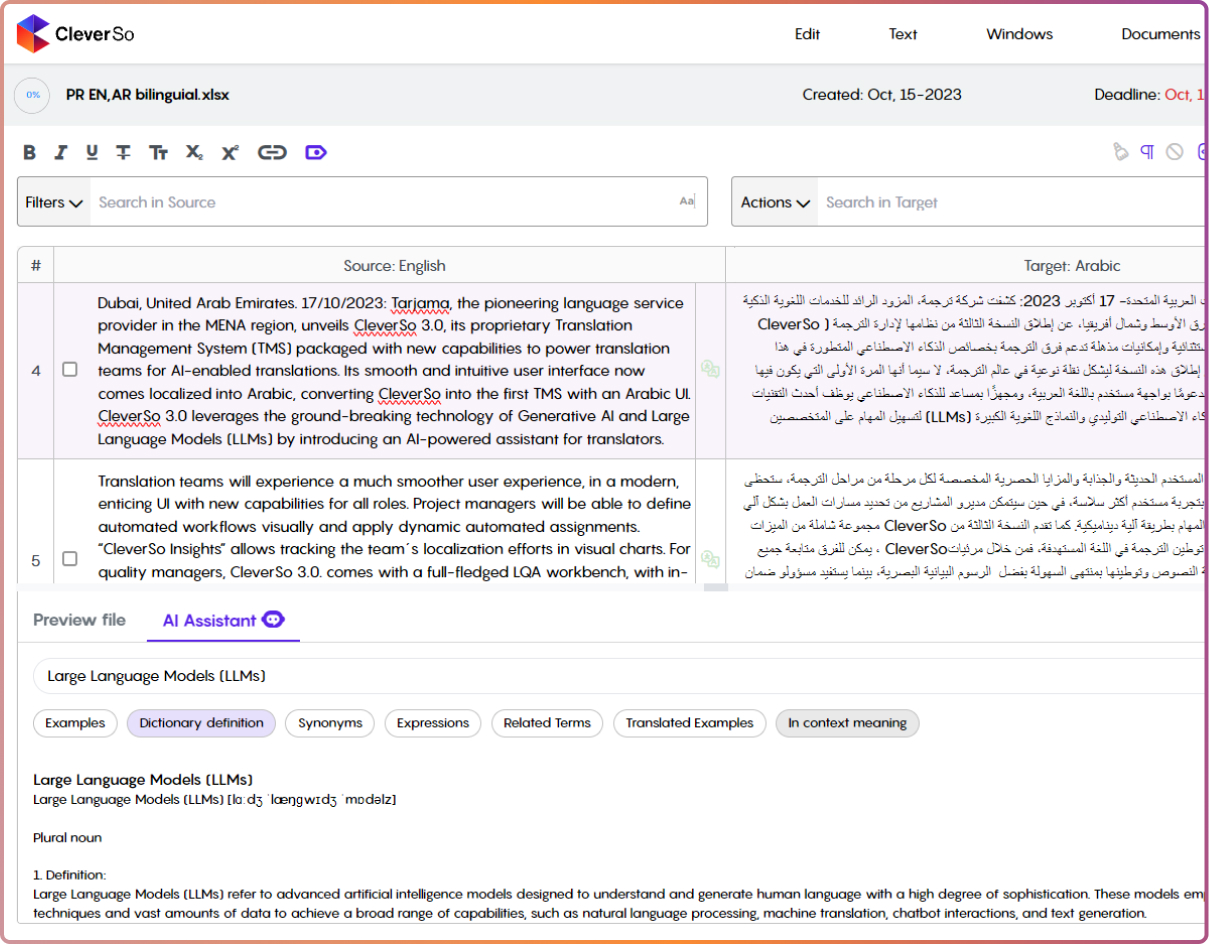 Unlock Insights of your localization efforts
Seize control with CleverSo's advanced project tracking, reporting and quality assurance. Gain insights of your localization efforts to drive strategic choices.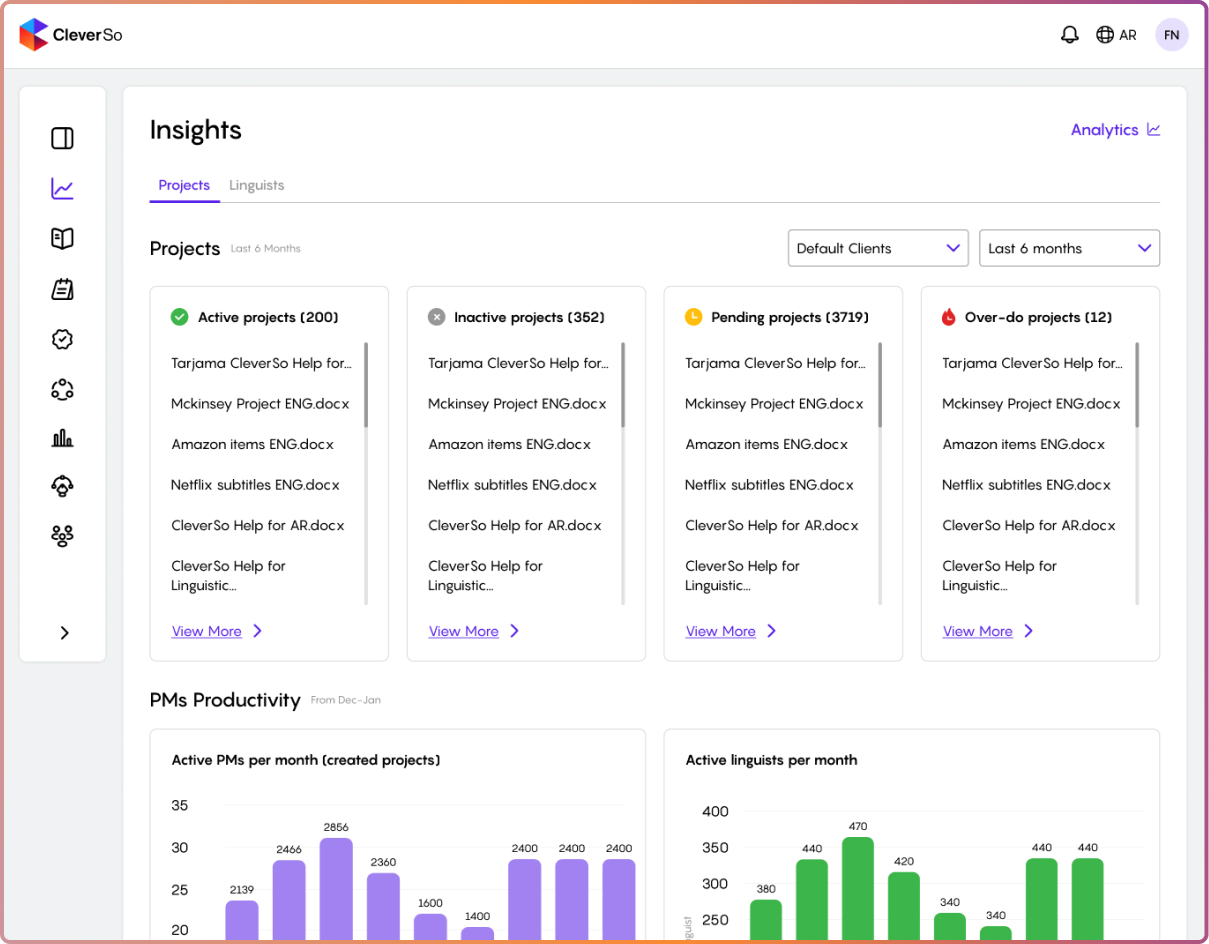 Open the doors to the Arabic-speaking world. 
If you are planning to unlock your content to the Arabic-speaking world, one of the fastest-growing markets, then CleverSo is your TMS of choice as the only TMS on the market with an Arabic UI, Arabic MT, Arabic AI spellchecker, and a unique user experience in Arabic. 
Don't miss out on the Arabic-speaking markets
conquer them with CleverSo – your dedicated localization partner to the Middle East! 
Discover CleverSo's Flexible Pricing Tiers
Choose the CleverSo plan that fits your needs and empowers your translation journey best. 
Essential
Up to 10 users per license

Essential translation workbench (CAT Tool)

Essential project management features

Arabic AI (MT, Spell & Grammar checker)
CleverSo Essential Cloud
For smaller teams, with the essential tools to excel in your translation projects.
Elevate
Up to 100 users per license

Full-fledged Translation Workbench with AI Assistant

Advanced project management features

Arabic AI (MT, Spell & Grammar checker)

Domain-specific Arabic MT

CleverSo Insights (Business reporting)

TM, TB and LQA Workbenches
CleverSo Elevate Cloud
Tailored for mid-size teams with advanced capabilities to elevate your localization efforts.
Elite
Unlimited users.

MT for additional languages

SLA with 24/7 support

Generative AI features

Customization and white labelling

API Webhooks

Single sign-on (SSO)

PDF support
CleverSo Elite Private Cloud
For large enterprises and organizations: Go global with the utmost security and scalable translation capabilities.
Dive into the future of translation!
The most innovative player in the game, discover more by reaching out today.